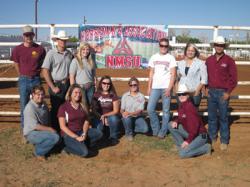 Horseman's Association
This is a club open to all majors! Any student with an interest in horses is encouraged to join. The club regularly hosts on-campus and off-campus service activities, in addition to invited speakers from our local horse community. Horsemen's is an active club throughout the year with lots of horse activities and opportunities to grow your skills.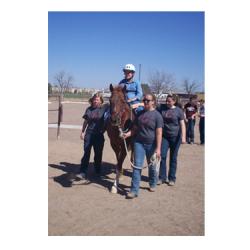 Therapeutic Riding Program
The NMSU Therapeutic Riding (TR) Program consists of Therapeutic Riding, Ground Lessons, Equine Assisted Learning, Equine Assisted Psychotherapy, and Hippotherapy.
Visit the Therapeutic Riding Program.
IHSA Equestrian Team
The mission of the IHSA is to provide equestrian competition for all college and university students regardless of riding level, gender, race, sexual orientation or financial status.
For more information, please see the IHSA Equestrian Team.
Ranch Horse Team
New Mexico State University Ranch Horse Team is coached by Joby Priest. Try-outs for the team are held every Fall semester at the NMSU Horse Farm. The team competes throughout the year in the American Stock Horse Association (ASHA) collegiate ranked shows as well as local Open show and SWQHA versatility shows.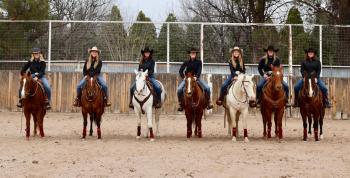 Internships
Internships are an integral part to a well-rounded graduate. Internships are often outside of New Mexico and span several months, a semester or summer is common. Recently, NMSU students have completed internships in prestigious programs such as the KEMI Internship Program in Kentucky and the 666's Ranch in Texas. Professors and instructors in the equine field are well connected to industry leaders and want to help you find an internship that suits your career goals.