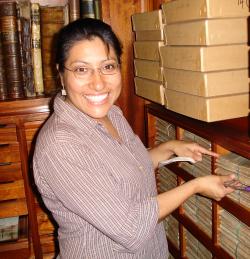 Title: College Assistant Professor, Herbarium Director and Curator of NMC and NMCR Herbaria
Major Field of Interest: Study of plant systematics with emphasis in plant evolutionary history with the aim of understanding the patterns and mechanisms that give rise to morphologic and genomic diversity of flowering plants.
Email: sfuensor@nmsu.edu
Office Phone: 575-646-5322 or 575-646-3732
Office Location: Knox Hall 341
Websites:
Google Citations
Herbarium - Located in Biology Annex Rooms 101, 103, and 105
Education:
B.S., Biology, Universidad Nacional Autonoma de Mexico, 1995
M.S., Electron Microscopy, Universidad Nacional Autonoma de Mexico, 1997
M.S., Plant Systematics, Ecology and Evolution, University of Missouri, 2002
Ph.D., Plant Systematics, Ecology and Evolution, University of Missouri, 2010
Post-doctoral fellow, Prairie View-Texas A&M University, 2015-2016.
Post-doctoral fellow, Indiana University, 2012–2015
Research and Plant Museum Collection:
Dr. Fuentes-Soriano primary responsibility is to guarantee the future safety and accessibility of the 120,000 plant herbarium specimens. This unique biodiversity collection is the oldest in the State, started by Prof. E.O. Wooton in the late 1880s. Dr. Fuentes-Soriano conducts systematics and taxonomic research, manages, promotes and improves the herbarium, teaches plant science, carries out outreach activities throughout the year, and offers plant identification services to the public.

Some major areas of her research focus on preserving natural history collections, improving biodiversity informatics and cyberinfrastructure, and conducting studies related to plant conservation, systematics, and taxonomy. Current research projects address regional and global concerns, such as the effects of climate changes on patterns of the geographic distribution in desert vegetation, synthesis of baseline plant biodiversity data gathered from arid regions, and bioprospecting potential medicinal plant species used traditionally to treat diseases and maintain health in various communities in Southern New Mexico.