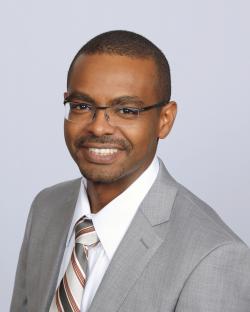 Title: Assistant Professor of Landscape Hydrology
Major Field of Interest: Hydrology and Remote Sensing
Email: hgeli@nmsu.edu
Office Phone: 575-646-1640
Office Location: Knox Hall 324
Education:
B.S. Civil Engineering, University of Khartoum,1999
M.S. Water Resources Engineering, University of Khartoum, 2004
Ph.D. Civil and Environmental Engineering, Utah State University, 2012

Research:
Dr. Geli research interests are in the area of hydrology and remote sensing. One of his major research activities involves understanding and modeling food-energy-water nexus to enhance its resiliency due to impacts from drought events and socioeconomic shock's. Generally, his research focuses on understanding and modeling the exchange of mass and energy fluxes exchange within the soil-vegetation-atmosphere continuum. His research involves the use of remote sensing data and tools to improve water resources management for agricultural water use, regional water balance applications, and land use land cover change. His ongoing research activities involve the integration of remote sensing and gridded near surface weather forcing data obtained from land surface models. His research also includes the use of ground-based observations from eddy covariance and scintillometers. He developed a modeling approach that couples water and surface energy balance methods to estimate evapotranspiration and root zone soil water content at different temporal and spatial scales.