Rangeland Resources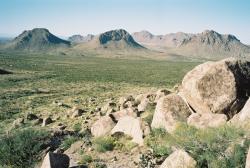 Are you interested in working in wide open spaces in the West, managing natural landscapes, including grasslands, shrublands, woodlands, and deserts? Then you should consider Range Resources as a major. Rangeland ecosystems include diverse landscapes that account for nearly 50% of the earth's landmass. These ecologically and economically important lands provide grazing lands for livestock, diverse habitats for wildlife, and open space. Sustainable rangeland management is centered on wise stewardship and conservation of soil, water, plant and animal resources of these diverse lands. Rangelands are an important natural heritage, and a wide range of rewarding careers are available to today's rangeland professionals.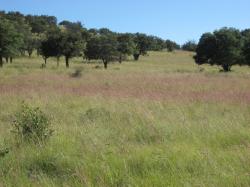 Curriculum
Coursework requirements for the major in Rangeland Resources encompass a broad spectrum of courses including natural sciences, soil and plant sciences, animal science and livestock management, natural resource management including forestry, watershed and wildlife management, and of course a solid foundation in the ecology and management of rangeland resources. Our curriculum provides hands-on learning experiences in classroom, field, and laboratory settings targeted to ensuring that our graduates have the knowledge and skills to succeed in their careers as rangeland professionals. In addition, many of our students participate in cooperative summer work experiences with land management agencies that provide valuable experience in natural resource management. The Range Science program at NMSU is accredited by the Society for Range Management, an international professional society whose mission is the promotion of wise stewardship and sustainable management of global rangelands. The Range Science program is directed toward broadening a students' experience at NMSU while offering the opportunity to increase their knowledge, and enhance the critical skills necessary for living in today's society.
Careers
The BS degree in Rangeland Resources prepares you for a variety of rewarding careers in natural resource ecology and management. Our graduates pursue careers with federal, state, tribal, and private land management agencies, private ranch management, wildlife habitat management, watershed management, ecosystem restoration, natural resource conservation, consulting, and graduate study. The coursework required for the degree satisfies the academic requirements for employment as Range Management Specialists and Range Management Conservationists with US Federal land management agencies such as the Natural Resources Conservation Service, Bureau of Land Management, or US Forest Service.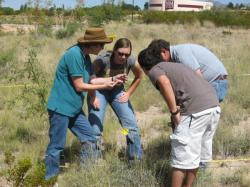 NMSU Range Club
At NMSU, we have a very active Range Club, in which student members engage in a variety of activities to enhance their understanding of contemporary issues in the area of rangeland science and management. The Range Club is a student chapter of the Society for Range Management (SRM), and every year a number of Range Club members attend the annual SRM meetings where they participate in competitions such as the Plant Identification Contest, Rangeland Cup Competition, Undergraduate Range Management Exam, as well as attend symposia and technical sessions to learn about the latest research and innovations in range science and management.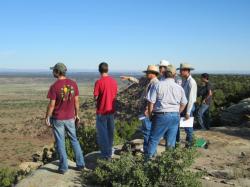 For more information about the Rangeland Resources program:
Dr. Andres Cibils
Professor, Grazing Management and Ecology
Department of Animal & Range Sciences, NMSU
P.O. Box 30003, MSC 3-I
Las Cruces, NM 88003-8003
Phone: (575) 646-4342
Fax: (575) 646-5441