Why Ruminant Nutrition at NMSU?
Here at New Mexico State University's Ruminant Nutrition Program your possibilities for academic advancement, personal growth, and success are endless. The nutrition group offers state of the art research and teaching facilities located on campus, as well as two ranches and a feed-yard off campus, at your disposal. You will be working in collaboration with some of the leading ruminant nutritionists in their respected fields. The faculty takes pride in having active individual research programs with a commitment to collaborative research with each other. This allows students the opportunity to conduct research projects that are grounded in ruminant nutrition fundamentals that also may address highly specialized areas.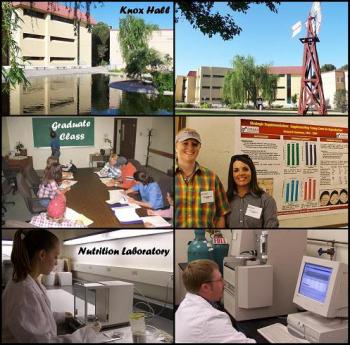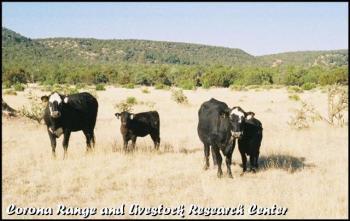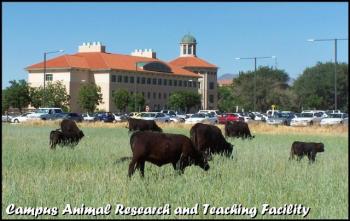 Facilities
Animal Nutrition & Physiology Research Complex - Located on-campus provides indoor housing for sheep and cattle in group pens or individual stalls
Research - Outdoor housing for cattle, sheep, goats, horses
Chihuahuan Desert Rangeland Research Center - 64,000 acre cattle ranch located 20 miles north of Las Cruces
Clayton Livestock Research Center - 1,000 head feedlot
Chromatography Lab -
Corona Range and Livestock Center - 28,000 acre ranch for cattle and sheep research
Nutrition Lab - The Nutrition Laboratories at NMSU is part of the Department of Animal and Range Sciences. The mission of the Nutrition Lab is to provide faculty and students who have completed appropriate training with access to laboratory facilities and equipment for research and teaching. The laboratory also processes samples for researchers external to NMSU.
Microbiology Lab -
Classes
Core Courses of Ruminant Nutrition Graduate Program
The Ruminant Nutrition program here at New Mexico State University is a very diverse and challenging schedule that encourages it students to pursue more than just one angle of study. The student will meet with their advisor and set up a program of study that is agreed on by both parties. This program is tailored to their field of interest, but not limited to a set of classes. The program is flex able to meet the ever changing needs of the industry and the individual. The program will include but is not limited to these classes:
ANSC 481 Environmental Physiology of Domestic Animals
ANSC 484 Ruminate Nutrition
ANSC 501 Advanced Animal Nutrition
ANSC 504 Animal Physiology Techniques
ANSC 507 Laboratory Techniques in Nutrition
ANSC 509 Endocrinology of Domestic Animals
ANSC 510 Range Nutrition Techniques
ANSC 512 Research Methods in Animal Science
ANSC 515 Graduate Seminar
ANSC 520 Advanced Nutrition Management I: Feedlot
ANSC 521 Advanced Nutrition Management II: Cow Calf/ Stocker
ANSC 522 Animal Nutrition
ANSC 550 Special Topics
ANSC 560 Rumen Microbiology
ANSC 598 Special Research Programs
ANSC 599 Masters Thesis
ANSC 600 Research
ANSC 621 Metabolic Functions and Dysfunctions
ANSC 625 Nutrition Metabolism I: Min, Vit, and N Metabolism
ANSC 626 Nutrition Metabolism II: Carbs, Lipids, and Energetics
ANSC 650 Special Topics
ANSC 698 Special Research Programs
ANSC 700 Doctoral Dissertation
Complete guideline for graduate work:
M.S. and PhD - Animal Science
Faculty
Clayton Livestock Research Center
Glenn Duff - Superintendent
Graduate Work
The Department of Animal and Range Science offers teaching assistantships available on a competitive basis.
For further information contact:
Animal Science Graduate Committee
Animal and Range Sciences
Box 30003, MSC 3I
Las Cruces, NM 88003-8003
(575)646-4135
Photos