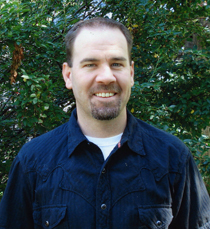 Title: Professor of Animal Science
Major Field of Interest: Reproductive Physiology with an emphasis in recognition and maintenance of pregnancy
Email: ryashley@nmsu.edu
Web Site: Ashley Lab
Office Phone: 575-646-4135
Office Location: Knox Hall 229
Education:
B.S., Animal Science, New Mexico State University, 1999
M.S., Animal Science, New Mexico State University, 2002
Ph.D., Biomedical Sciences, Colorado State University, 2007
Post-doctoral fellow, Colorado State University, 2007-2010
Courses Taught:
ANSC 421 Physiology of Reproduction
ANSC 602 Advanced Reproductive Physiology
ANSC 602L Molecular Techniques in Reproductive Physiology
ANSC 604 Hypothalamo-Hypophyseal-Pineal Endocrinology
ANSC 605 Gonadal and Uterine Endocrinology - ANSC 606 Endocrinology of Pregnancy, Parturition, and Lactation
ANSC 700 Doctoral Dissertation

Research:
Our laboratory has two focus areas: progesterone's actions mediated by membrane receptors and chemokines' effects in early pregnancy and breast cancer. One goal of our laboratory is to elucidate the functions of membrane progesterone receptors (MPRs) in normal and compromised pregnancies, as well as their roles in reproductive cancers. The other focus area of our laboratory is the role that the chemokine receptor 4 (CXCR4) and its ligand, CXCL12, play during early pregnancy, particularly implantation of trophoblast cells into maternal endometrium and subsequent development of the placenta. CXCL12/CXCR4 activation is associated with immune functions, cell survival and proliferation and vascularization. Abnormal placental growth and vascular development early in pregnancy leads to poor fetal growth and survival and can result in compromised health in the offspring later in life. Additionally, CXCL12 and CXCR4 are implicated in a number of reproductive cancers, with established roles in breast cancer metastasis and are hormonally regulated.