Pre-Professional Program
Do you aspire to a lifelong career that aims to improve the health and welfare of animals? A career as a Veterinarian may be the path for you! The Department of Animal and Range Sciences (ARS) has been preparing students to apply to Veterinary Medical Schools since 1965! Getting accepted into Veterinary Medical School is very challenging, but we are here to help guide you down your chosen career path!
Every year a considerable number of students who have an interest in careers in Veterinary Medicine enter our Animal Science program. They have made a great choice to come here. Our curriculum not only covers the required prerequisite courses needed to apply at most Veterinary Medical schools, but our Animal Science courses provide hands-on, relevant experience with a variety of large and small animals. Our professors are known for their commitment to student learning and student success.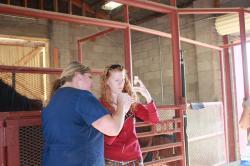 The Competitive Edge Being in Our Department Provides. The Department of Animal and Range Sciences is the home to the Pre-Vet club at NMSU. By participating in this club as a member you can gain valuable knowledge and experience that can increase your chances at getting into the veterinary school of your choices.
Pre-Veterinary medicine is one of four "pre-professional" programs available at NMSU. The state of New Mexico does not have a Veterinary Medical School so students must apply to other universities in other states. Some of these states are part of a Professional Student Exchange Program (PSEP) | WICHE that helps excellent students by waving out of state tuition costs. All Pre-Vet majors receive training in the biological sciences, physics, chemistry, mathematics and liberal arts. While obtaining your B.S. in Animal Science (Science Option) you will complete all the courses that will qualify you to apply to most schools of Veterinary Medicine. You can do all this in one of three fields of studies that is of personal interest to you: